Add your personal message to T-shirts, mugs, cards and more!
Many products featured or advertised at Honeydoodles and sold through Zazzle.com can be customized. You can add your own personal text message, names and even pictures.
Customizable features* include:
Text message – Add/Delete text to suit your taste or occasion
Font & Colors – Select Font Style/Size/Color
Background Colors – Select from the palette or enter a hex# color
Pictures/Graphics – upload your own graphics or picture
* Varies by product
It's Easy to Personalize Any Type of Product
You follow the same basic steps no matter whether you're personalizing a mug, T-shirt or any other Zazzle products. Some products may have more or fewer options depending on the how the seller has set up the customization. Some products may not have any customization options at all.
If you want to customize a Zazzle product just follow our Quick Reference Guide below.
>>>>>>>>>>>>>>>>>>>>>>>>>>>>>>>>>>>>>>>>>>>>>>>>>>>>>>>>>>>>>>>
START by Clicking on the "Customize it! button
(If you don't see the button under the product image – the product cannot be customized.)
These are the main editing tools
Be sure to select "Art view" to enable more flexibility with drag and drop features.
Play with the editing tools
Take a few minutes to play around with the customization on a random product – it's OK – you can't break it and you don't have to buy it! If you want to start over, just click "revert" beside the save button to restore everything to the way it first appeared.
Add your own images
It's easy to add your own images to personalize your product. Start by clicking on the "Add images" button and follow the instructions to uplad images from your computer. Higher resolution images work best (200-300 pixels per inch (ppi) for most items)
Pick your favorite fonts and colors
You can try variations of colors for fonts and backgrounds. Select the text you want to change and click on the appropriate text tool. "Background" color and other options are accessed by clicking the "Edit" drop down menu. You'll find options for resizing and rotating elements in the "Arrange" drop down menu.
The cross with the arrows is a positioning tool – clicking on the "bullseye" will centre any selected element. You can also drag your selection with the mouse.
Purchase your customized products
Once you've finished personalizing the design, click on "Product view" in the upper left to see how your final design will look on your cards, mug, t-shirt, etc. If you're happy with your design, click "save". Select a "style" (if there are options) fill in the quantity you want and click "Add to cart".
The Zazzle elves will guide you the rest of the way.
Have fun.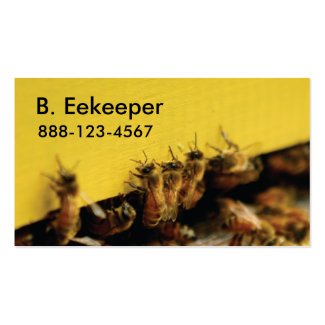 bees on yellow hive business cards
by
dutchinny
Look at more Beekeeping Business Cards at
zazzle